DON'T FORGET TO ORDER YOUR NC LICENSE PLATE

.
​The North Carolina Horse Council has gotten approval from the NC General Assembly for a NCHC license plate. The plate can be a standard plate or it can be personalized. The fees are $20.00 standard and
​$20.00 + $50.00 personalized. They must preorder 300 plates for the state to begin making them. Check out the link below for more information.
www.nchorsecouncil.com
TWHA is seeking class sponsorships for the 2018 Show Year


​Sponsorship is offered in different levels and comes with links on our website, listing in our monthly newsletters, etc..

TWHA is a 503-B organization, and your contributions are tax deductible

. Go to our Sponsors page and fill out the form and someone will get back to you or print off the sponsorship form in PDF format and fill it out and return it to the contact listed on the form.
TWHA is offering advertising on our website. If you are interested in advertising with us, please contact the advertising committee for prices and more details. Go to our Contacts page for contact information.
Triangle Wide Horseman's Association
Next Board Meeting - Aug 6th, eat at 6pm, meeting at 7pm
Virlie's Grill, 58 Hillsboro St, Pittsboro, NC 27312

Everyone is always welcome.
​Please let us hear your voice and help make 2018 the best year ever.

Double click here to edit this text.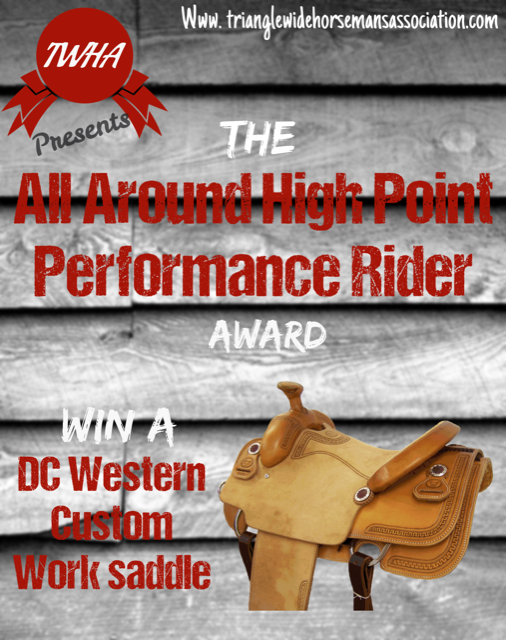 ****ATTN All TWHA MEMBERS*****



Please note a significant change in the TWHA 2018 show calendar. TWHA now has the opportunity to join forces with Finally Farms and rent the James B Hunt Horse complex the weekend of Aug 4th & 5th. We will be using the Ring behind Barn E and stall in Barn E & D. We will be holding our Championship Challenge this weekend as well, Saturday Aug 4th. We will NOT be having a show the weekend of Sept 23 & 24.

Thank you so much Lesley Jenks and Finally Farms for allowing us to be a part of your weekend. This will take a HUGE financial burden off TWHA and allow us to have the show we want at the Horse complex.